No one likes competition (but if you "learn to love it" it will help you sell more!)
No one likes competition.
Most people EITHER:
Say "I don't have competition" (Uh huh….suuuuure).
 OR
Want to pulverize their opponents and come at them like a "spider monkey".
BUT…there can be some really phenomenal benefits to having healthy competition.
FIRST…the thing about having an adversary is that it makes you WORK all the harder to make yourself better!
Where would Batman be without the Joker?
Where would Darth Vader be without Luke Skywalker?
SECOND…By understanding your competition you can figure out how to beat them.
According to Inc. Magazine here are some important reasons to research your competition:
Understand the market.

Better target customers.

Forecast the potential for the market.

Figure out how the economic climate impacts the market.

Understand what competitors are offering.

Keep tabs on competitors' prices.

Determine offerings in ancillary markets.

Find new customers.
So here's the "down and dirty" on CRUSHING your rivals.
Visit their website and LinkedIn business profile. Research how they talk about themselves and what they think is important to tell their clients and prospects. How do they bring on customers, what's their sales collateral like? What's their offering and what are their price points?
Here's the biggest thing you want to find out: How to be UNIQUE.
You absolutely want to be different from you competition. You want to give your customers an experience they can't get anywhere else.
Are you available in the moment they need information or do you make them wait?
In today's age, it's pretty obvious that prospects and customers want RAPID information and response.
Face it, we're in the age of instant gratification…
When people want something, they want it NOW.
Plus, since we have so many options these days they're more likely to go to Google to find what they need than anywhere else…
So unless you dominate the first page of Google for your category, you need to give people a reason to think about you, talk about you, and a reason to stay on board.
Talk to any customers you lose or fail to close. Don't stop at "no".
If you listen hard enough you might discover that there's something you can tweak in your business.
Think about your own unique selling proposition. Is it in line with what people are looking for or expecting when they purchase your type of product or service? Are there any mods you can make so it's stronger?
If you have customers coming in at a steady clip then you know it's working.
If not…then time to roll up your sleeves and start hustling!
The more you know about your competition the better prepared you'll be to win.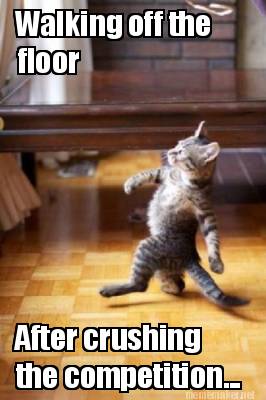 Ready to crush your competition? Get started on our Done-For-You Linked Lead Services here!